CFAO Motors Uganda Launches Roof-Top Solar Plants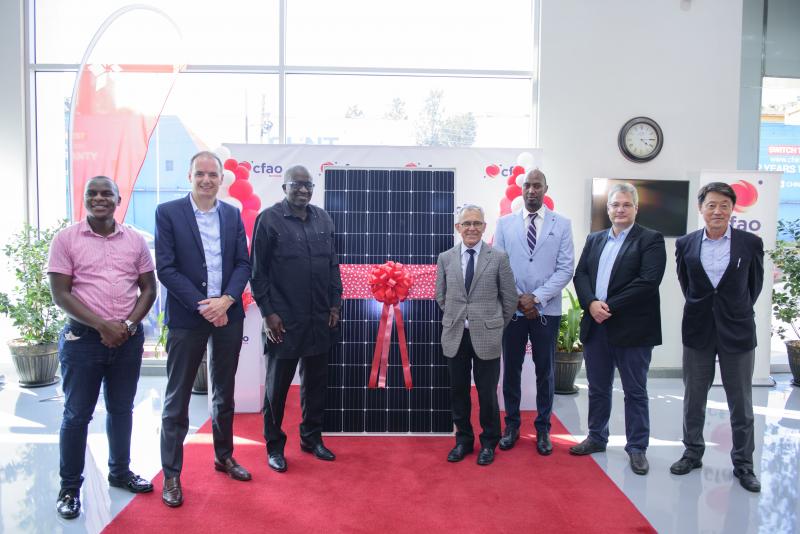 2022, March 07
On Friday 4th March 2022, CFAO Motors Uganda, formerly Toyota Uganda, unveiled two solar installations at their branches in Namanve and Kampala as part of CFAO Group's carbon neutral initiatives. The plants are synchronized to work seamlessly with the main power supply (national grid).
The two solar plants have the capacity to power approximately 2,200 households and will contribute in the reduction of 300 tons of carbon emissions during the 25-year useful time period. Currently CFAO's carbon emissions stand at approximately 230 ton per year. The company will enjoy over 30% reduction in its annual energy bills.
Speaking at the launch, CFAO Group Director Ambassador Dennis Awori, who visited Uganda for the occasion, emphasized that the company will continue to embrace the Toyota Tsusho Corporation's global vision 'Be the right one' both for the development and protection of the environment in countries where it operates. As we expand our business, activities in Uganda and Africa at large, our company shall not relent in creating and passing on a better global environment to the children of the future in countries we do business.
According to the Managing Director CFAO Motors Uganda, Mr. Thomas Pelletier, the company is aligned with CFAO Group's policies to focus on relevant Sustainable Development Goals (SDGs) defined by the United Nations and to reduce carbons emissions to 50% by 2030.
"We are proud to be the first automotive company to embrace solar energy into our business operations. This will enable us to reduce our carbon footprint by about 300 tons over a period of 25 years, provide us with an additional energy source to stabilize our electricity and reduce our energy costs. We urge more organizations to follow suit in the battle against global warming," he added.
CFAO Motors Uganda is committed to strengthening actions in favor of sustainable development across various activities and demonstration of the company's long-term commitment as a responsible corporate citizen in Uganda over the years. The company's Corporate Social Investments focus on projects in entrepreneurship and skills development, road safety, education, environment, and health. Key among these is a forest restoration project in partnership with National Forestry Authority (NFA) at Mabira Forest.
Back to the list