With its advanced chassis and bodywork, the Toyota Hilux is the pick-up by excellence thanks to its unprecedented power proven for more than 50 years. The power and performance of this 4x4 meets every challenge whether it in the city or on off-road. Its robust but sporty design offers the promise of an exhilarating driving sensation in single or double cabin variants with an automatic or manual transmission. More adventurous, more powerful and more agile than ever, Hilux offers an exceptional level of driving and comfort as well as an unprecedented safety. Made in Africa, for Africa.
---
Technical Specifications
ENGINE
Displacement (cc) : 2393
Fuel System : Direct injection
Fuel type : Diesel
DIMENSIONS
Dimensions (Lxwxh) in mm : 5325 x 1800 x 1795
Ground clearance (mm) : 294
Wheelbase (mm) : 3085
TRANSMISSION
Gearbox : Manual, Automatic
Transmission : Part time manual 4x4
WEIGHT/CAPACITIES
Curb weight (kg) : 1995
Fuel tank capacity (L) : 80
WARRANTY
Manufacturer Warranty : 3 years / 100 000 Km
Retail Network : Toyota
Loading...
---
Models available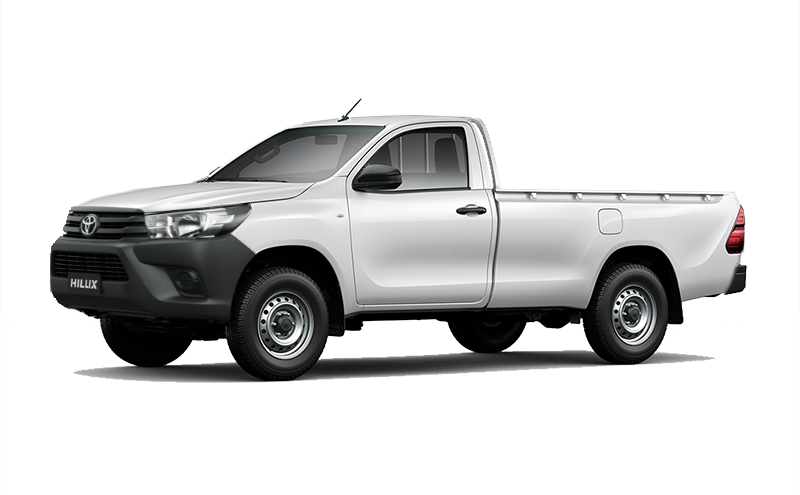 2.4 GD Country Single Cab 6-MT 4x4

Air conditioning

Airbags

Door unlock alert

Immobilizer

Spare wheel
Technical Specifications
Hilux 2.4 GD Country Single Cab 6-MT 4x4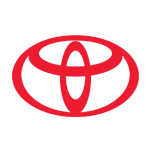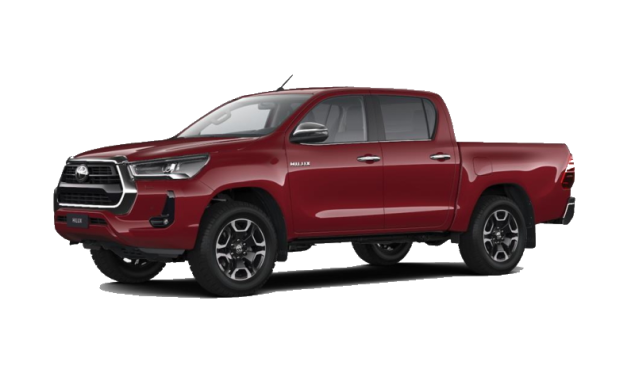 Technical Specifications
ENGINE

Displacement (cc)
2393
Engine Type
Cylinder in line
Fuel System
Direct injection
Fuel type
Diesel
Max power HP/rpm
150/3400
Max torque Nm
400/1600-2000
Number of cylinders
4
Valves/cylinder
4

BODY

Body style
Pick-up single cabin
Number of doors
2 doors

DIMENSIONS

Dimensions (Lxwxh) in mm
5325 x 1800 x 1795
Ground clearance (mm)
294
Wheelbase (mm)
3085

TRANSMISSION

Gearbox
Manual
Transmission
Part time manual 4x4

WEIGHT/CAPACITIES

Additional fuel tank capacity (L)
Curb weight (kg)
1995
Fuel tank capacity (L)
80
Gross vehicle weight (kg)
2870
Number of seats
2

BRAKES

Front brake
Ventilated discs
Parking brake
Manual
Rear brake
Drums

SUSPENSIONS

Front suspension
Coil type
Kinetic Dynamic Suspension System (E-KDSS)
Rear suspension
Leaf

TYRES

Tyre dimension
225/70 R17C

PERFORMANCES

Acceleration (sec) : 0 to 100km/h
Max speed (km/h)
170

FUEL CONSUMPTION

Consumption mixed cycle (l/100km)
Equipments
ACTIVE SAFETY

ABS
Yes
Door unlock alert
Yes
Emergency warning triangle
Yes
Headlamps
Halogen
High position brake lamp
Yes
Immobilizer
Yes
Seatbelt warning
Yes
Side turn lamp
Yes

EXTERIOR

Adjustable side mirrors
Manuals
Door handles
Black
Door mirrors
Black
Folding side mirrors
Manuals
Front bumpers
Black
Front grill
Black
Mudguars
Front, Rear
Rear bumpers
Body colour
Wheels
Steel
Windscreen
Laminated

INTERIOR & COMFORT

Adjustable steering wheel
Height adjustable
Air conditioning
Manual
Car mat
Yes
Cup holder(s)
Front
Driver footrest
Yes
Driver seat
Reach adjustable
Front seats
3
Gearshift & Brake lever
Urethane
Locking glove box
Yes
Loud speakers
2
Plug 12V
1
Power Steering
Yes
Room lamps
Yes
Steering wheel
Urethane
Sun visor
Yes
Upholstery
Fabric
User guide
English

PASSIVE SAFETY

Airbags
Passenger, Driver, Knees (driver)
Headrests
Front
Number of spare wheels
1
Seatbelt pretentioner
Front
Seatbelts - Front
2 x 3 points
Spare wheel
Steel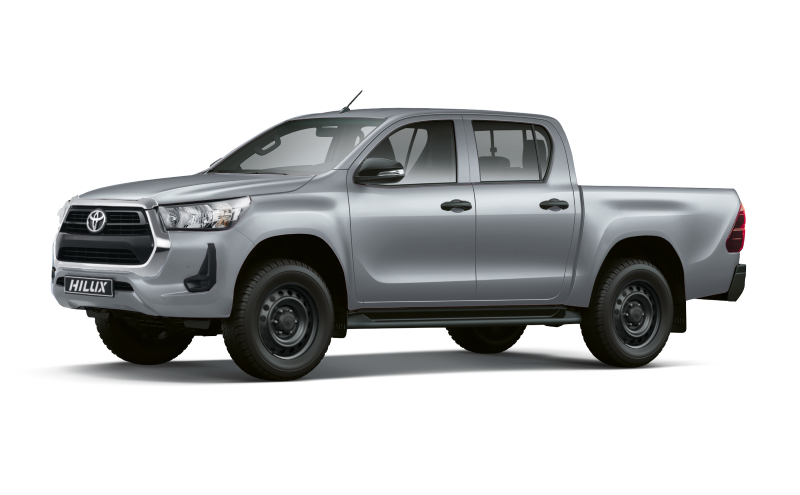 2.4GD Country Double Cab 6-MT 4x4

Air conditioning

Airbags

Door unlock alert

Immobilizer

Power windows

Spare wheel
Technical Specifications
Hilux 2.4GD Country Double Cab 6-MT 4x4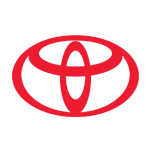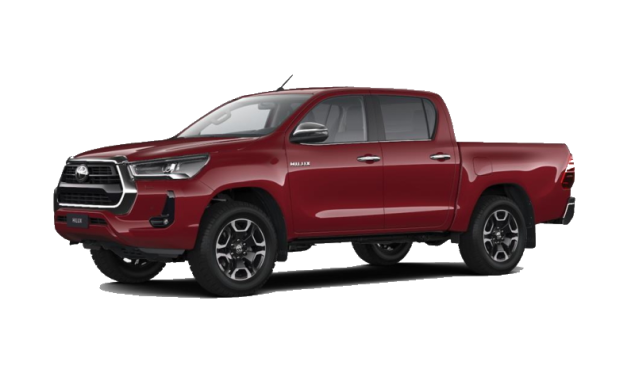 Technical Specifications
ENGINE

Displacement (cc)
2393
Engine Type
Cylinder in line
Fuel type
Diesel
Max power HP/rpm
150/3400
Max torque Nm
400/1600-2000
Number of cylinders
4
Valves/cylinder
4

BODY

Body style
Pick-up double cab
Number of doors
4 doors

DIMENSIONS

Dimensions (Lxwxh) in mm
5325 x 1855 x 1815
Ground clearance (mm)
310
Wheelbase (mm)
3085

TRANSMISSION

Gearbox
Manual
Transmission
Part time manual 4x4

WEIGHT/CAPACITIES

Additional fuel tank capacity (L)
Curb weight (kg)
2075
Fuel tank capacity (L)
80
Gross vehicle weight (kg)
2910
Number of seats
5

BRAKES

Front brake
Ventilated discs
Parking brake
Manual
Rear brake
Drums

SUSPENSIONS

Front suspension
Coil type
Kinetic Dynamic Suspension System (E-KDSS)
Rear suspension
Leaf

TYRES

Tyre dimension
265/65 R17

PERFORMANCES

Acceleration (sec) : 0 to 100km/h
Max speed (km/h)

FUEL CONSUMPTION

Consumption mixed cycle (l/100km)
Equipments
ACTIVE SAFETY

ABS
Yes
Brake assist
Yes
Demister
Rear windows
Door unlock alert
Yes
Eletronic Brakeforce distribution (EBD)
Yes
Headlamps
Halogen
High position brake lamp
Yes
Immobilizer
Yes
Seatbelt warning
Yes
Side turn lamp
Yes

EXTERIOR

Adjustable side mirrors
Electric
Bumper - Front&Rear
Body colour
Door handles
Black
Door mirrors
Black
Folding side mirrors
Manuals
Front bumpers
Body colour
Front grill
Black
Mudguars
Rear, Front
Rear bumpers
Body colour
Wheels
Steel

INTERIOR & COMFORT

Adjustable steering wheel
Height adjustable
Air conditioning
Manual
Car mat
Yes
Central armrest
Front
Central door locking
Yes
Cup holder(s)
Front
Driver footrest
Yes
Driver seat
Reach adjustable
Front seats
2
Gearshift & Brake lever
Urethane
Locking glove box
Yes
Loud speakers
4
Plug 12V
1
Power Steering
Yes
Power windows
Front, Rear
Room lamps
Yes
Sequential electric windows
Driver
Steering wheel
Urethane
Sun visor
Yes
Upholstery
Fabric
User guide
English

PASSIVE SAFETY

Airbags
Driver, Passenger
Fire extinguisher
Yes
Headrests
Rear, Front
Number of spare wheels
1
Seatbelt pretentioner
Front
Seatbelts - 2nd row
2 x 3 points + 1 x 2 points
Seatbelts - Front
2 x 3 points
Spare wheel
Steel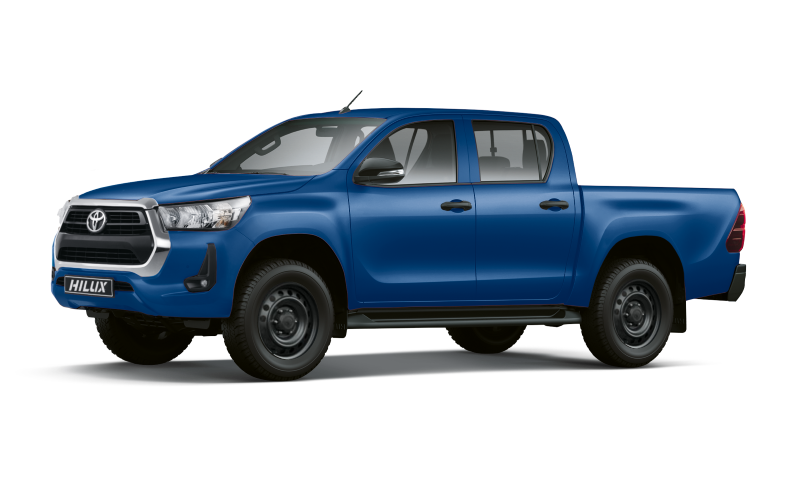 2.4GD Comfort Double Cab 6-AT 4x4

Air conditioning

Airbags

Door unlock alert

Fog lamps

Immobilizer

Power windows

Spare wheel
Technical Specifications
Hilux 2.4GD Comfort Double Cab 6-AT 4x4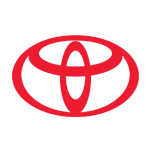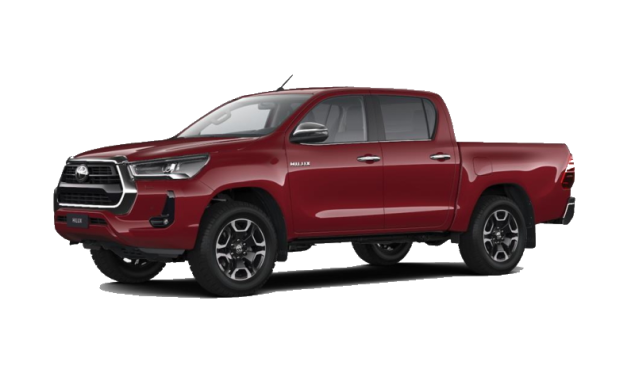 Technical Specifications
ENGINE

Displacement (cc)
2393
Engine Type
Cylinder in line
Fuel System
Direct injection
Fuel type
Diesel
Max power HP/rpm
150/3400
Max torque Nm
400/1600-2000
Number of cylinders
4
Valves/cylinder
4

BODY

Body style
Pick-up double cab
Number of doors
4 doors

DIMENSIONS

Dimensions (Lxwxh) in mm
5323 x 1855 x 1815
Ground clearance (mm)
319
Wheelbase (mm)
3085

TRANSMISSION

Gearbox
Automatic
Transmission
Part time manual 4x4

WEIGHT/CAPACITIES

Additional fuel tank capacity (L)
Curb weight (kg)
2060
Fuel tank capacity (L)
80
Gross vehicle weight (kg)
2910
Number of seats
5

BRAKES

Front brake
Ventilated discs
Parking brake
Manual
Rear brake
Drums

SUSPENSIONS

Front suspension
Coil type
Kinetic Dynamic Suspension System (E-KDSS)
Rear suspension
Leaf

TYRES

Tyre dimension
265/65 R17

PERFORMANCES

Acceleration (sec) : 0 to 100km/h
Max speed (km/h)

FUEL CONSUMPTION

Consumption mixed cycle (l/100km)
Equipments
ACTIVE SAFETY

ABS
Yes
Brake assist
Yes
Door unlock alert
Yes
Eletronic Brakeforce distribution (EBD)
Yes
Fog lamps
Front
Headlamps
Halogen
High position brake lamp
Yes
Immobilizer
Yes
Seatbelt warning
Yes
Side turn lamp
Yes

EXTERIOR

Adjustable side mirrors
Electric
Bumper - Front&Rear
Body colour
Door handles
Black
Door mirrors
Black
Folding side mirrors
Manuals
Footboard
Side step
Front bumpers
Body colour
Front grill
Body colour
Mudguars
Rear
Rear bumpers
Body colour
Wheels
Steel
Windscreen
Laminated

INTERIOR & COMFORT

Adjustable steering wheel
Height and reach adjustable
Air conditioning
Manual
Car mat
Yes
Central armrest
Front
Central door locking
Yes
Cup holder(s)
Front
Driver footrest
Yes
Driver seat
Reach adjustable
Front seats
2
Gearshift & Brake lever
Urethane
Locking glove box
Yes
Plug 12V
1
Power Steering
Yes
Power windows
Rear, Front
Room lamps
Yes
Sequential electric windows
Driver
Steering wheel
Urethane
Sun visor
Yes
Upholstery
Fabric
User guide
English

PASSIVE SAFETY

Airbags
Knees (driver), Driver, Passenger
Fire extinguisher
Yes
Headrests
Front, Rear
Height adjustable lights
Manual
ISOFIX fixings
Rear
Number of spare wheels
1
Seatbelt pretentioner
Front
Seatbelts - 2nd row
3 x 3 points
Seatbelts - Front
2 x 3 points
Spare wheel
Steel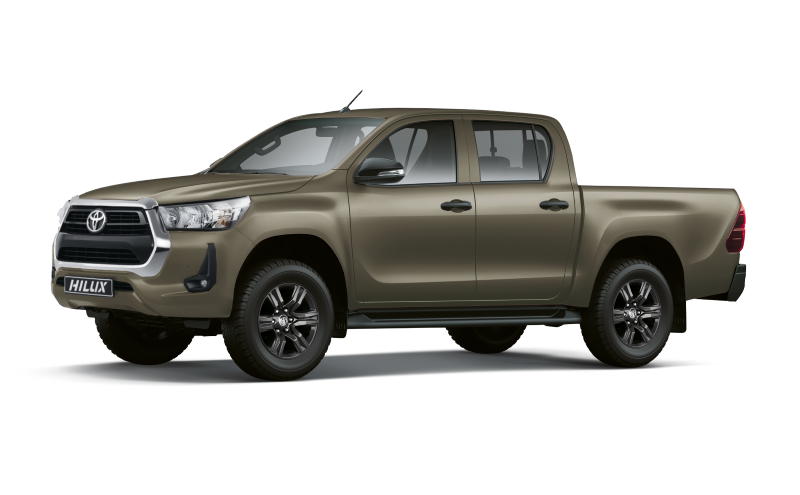 2.4GD Comfort Double Cab 6-MT 4x4

Air conditioning

Airbags

Door unlock alert

Electronic stability control

Fog lamps

Hill-start assist control

Immobilizer

Power windows

Spare wheel
Technical Specifications
Hilux 2.4GD Comfort Double Cab 6-MT 4x4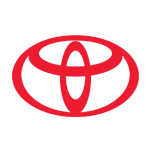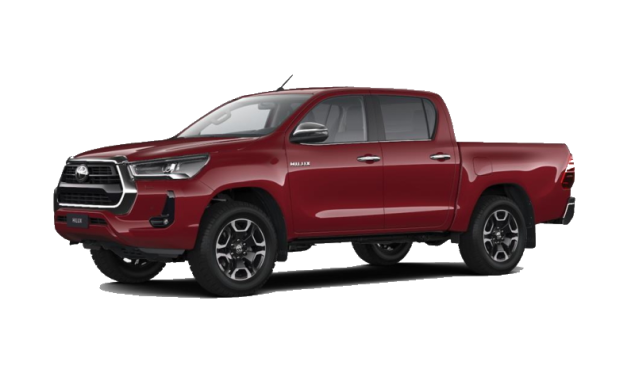 Technical Specifications
ENGINE

Displacement (cc)
2393
Engine Type
Cylinder in line
Fuel System
Direct injection
Fuel type
Diesel
Max power HP/rpm
150/3400
Max torque Nm
400/1600-2000
Number of cylinders
4
Valves/cylinder
4

BODY

Body style
Pick-up double cab
Number of doors
4 doors

DIMENSIONS

Dimensions (Lxwxh) in mm
5325 x 1855 x 1815
Ground clearance (mm)
310
Wheelbase (mm)
3085

TRANSMISSION

Gearbox
Manual
Transmission
Part time manual 4x4

WEIGHT/CAPACITIES

Additional fuel tank capacity (L)
Curb weight (kg)
2100
Fuel tank capacity (L)
80
Gross vehicle weight (kg)
2910
Number of seats
5

BRAKES

Front brake
Ventilated discs
Parking brake
Manual
Rear brake
Drums

SUSPENSIONS

Front suspension
Coil type
Kinetic Dynamic Suspension System (E-KDSS)
Rear suspension
Leaf

TYRES

Tyre dimension
265/65 R17

PERFORMANCES

Acceleration (sec) : 0 to 100km/h
Max speed (km/h)

FUEL CONSUMPTION

Consumption mixed cycle (l/100km)
Equipments
ACTIVE SAFETY

ABS
Yes
Brake assist
Yes
Demister
Rear windows
Door unlock alert
Yes
Electronic stability control
VSC
Eletronic Brakeforce distribution (EBD)
Yes
Emergency warning triangle
Yes
Fog lamps
Front
Headlamps
Halogen
High position brake lamp
Yes
Hill-start assist control
Yes
Immobilizer
Yes
Seatbelt warning
Yes
Side turn lamp
Yes
Trailer Sway Control (TSC)
Yes

EXTERIOR

Adjustable side mirrors
Electric
Bumper - Front&Rear
Body colour
Door handles
Chrome
Door mirrors
Black
Folding side mirrors
Manuals
Footboard
Side step
Front bumpers
Body colour
Front grill
Body colour
Mudguars
Front, Rear
Rear bumpers
Body colour
Wheels
Alloy

INTERIOR & COMFORT

Adjustable steering wheel
Height and reach adjustable
Air conditioning
Manual
Car mat
Yes
Central armrest
Rear, Front
Central door locking
Yes
Coolbox
Yes
Cup holder(s)
Front
Driver footrest
Yes
Driver seat
Height and reach adjustable
Front seats
2
Gearshift & Brake lever
Urethane
Locking glove box
Yes
Loud speakers
4
Lumbar support
Yes
Plug 12V
1
Power Steering
Yes
Power windows
Rear, Front
Room lamps
Yes
Sequential electric windows
Driver
Steering wheel
Urethane
Steering wheel audio control
Yes
Sun visor
Yes
Upholstery
Premium Fabric
User guide
English

PASSIVE SAFETY

Airbags
Passenger, Driver, Knees (driver)
Anti-theft alarm
Yes
Fire extinguisher
Yes
Headrests
Rear, Front
ISOFIX fixings
Rear
Number of spare wheels
1
Seatbelt pretentioner
Front
Seatbelts - 2nd row
2 x 3 points + 1 x 2 points
Seatbelts - Front
2 x 3 points
Spare wheel
Steel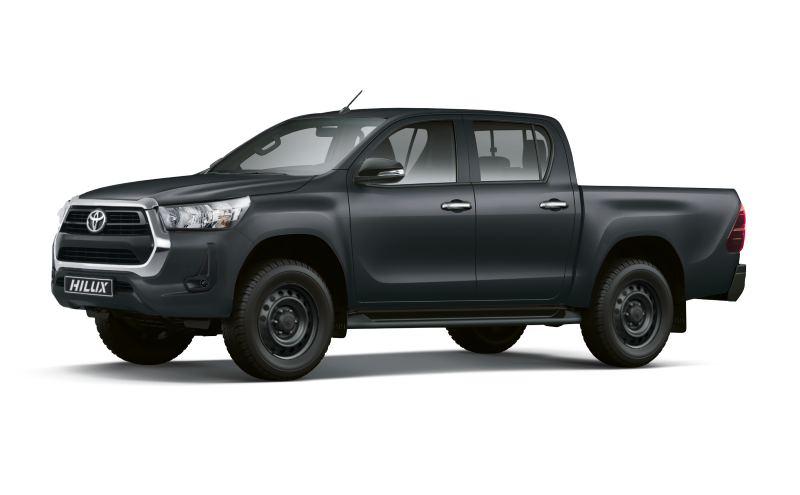 2.8GD Active Double Cab 6-AT 4x4

Air conditioning

Airbags

Door unlock alert

Electronic stability control

Hill-start assist control

Immobilizer

Power windows

Spare wheel
Technical Specifications
Hilux 2.8GD Active Double Cab 6-AT 4x4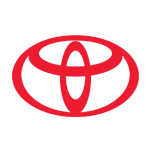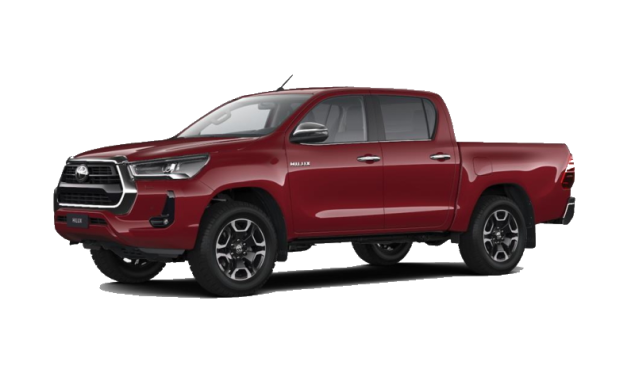 Technical Specifications
ENGINE

Displacement (cc)
2755
Engine Type
Cylinder in line
Fuel type
Diesel
Max power HP/rpm
204/3000-3400
Max torque Nm
500/1600-2800
Number of cylinders
4
Valves/cylinder
4

BODY

Body style
Pick-up double cab
Number of doors
4 doors

DIMENSIONS

Dimensions (Lxwxh) in mm
5325 x 1855 x 1815
Ground clearance (mm)
286
Wheelbase (mm)
3085

TRANSMISSION

Gearbox
Automatic
Transmission
Part time manual 4x4

WEIGHT/CAPACITIES

Additional fuel tank capacity (L)
Curb weight (kg)
2085
Fuel tank capacity (L)
80
Gross vehicle weight (kg)
2910
Number of seats
25

BRAKES

Front brake
Ventilated discs
Parking brake
Manual
Rear brake
Drums

SUSPENSIONS

Front suspension
Coil type
Kinetic Dynamic Suspension System (E-KDSS)
Rear suspension
Leaf

TYRES

Tyre dimension
265/65 R17

PERFORMANCES

Acceleration (sec) : 0 to 100km/h
Max speed (km/h)

FUEL CONSUMPTION

Consumption mixed cycle (l/100km)
Equipments
ACTIVE SAFETY

ABS
Yes
Brake assist
Yes
Demister
Rear windows
Door unlock alert
Yes
Electronic stability control
VSC
Eletronic Brakeforce distribution (EBD)
Yes
Headlamps
Halogen
High position brake lamp
Yes
Hill-start assist control
Yes
Immobilizer
Yes
Seatbelt warning
Yes
Side turn lamp
Yes
Trailer Sway Control (TSC)
Yes

EXTERIOR

Adjustable side mirrors
Electric
Bumper - Front&Rear
Body colour
Door handles
Chrome
Door mirrors
Black
Folding side mirrors
Manuals
Footboard
Side step
Front bumpers
Body colour
Front grill
Body colour
Mudguars
Rear, Front
Rear bumpers
Body colour
Wheels
Steel

INTERIOR & COMFORT

Adjustable steering wheel
Height and reach adjustable
Air conditioning
Manual
Car mat
Yes
Central armrest
Front
Central door locking
Yes
Driver seat
Reach adjustable
Front seats
2
Gearshift & Brake lever
Urethane
Loud speakers
4
Plug 12V
1
Power Steering
Yes
Power windows
Front, Rear
Room lamps
Yes
Sequential electric windows
Driver
Steering wheel
Urethane
Steering wheel audio control
Yes
Sunvisor with mirror
Passenger
Upholstery
Fabric
User guide
English

PASSIVE SAFETY

Airbags
Passenger, Driver, Knees (driver)
Number of spare wheels
1
Seatbelt pretentioner
Front
Seatbelts - 2nd row
2 x 3 points + 1 x 2 points
Seatbelts - Front
2 x 3 points
Spare wheel
Steel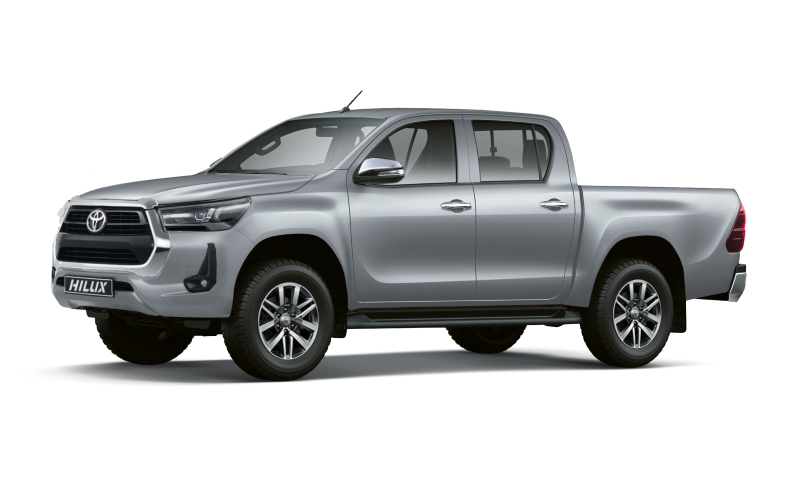 2.8GD Executive Double Cab 6-AT 4x4

Air conditioning

Airbags

Connections

Door unlock alert

Electronic stability control

Fog lamps

Hill-start assist control

Immobilizer

Parking sensor

Power windows

Spare wheel
Technical Specifications
Hilux 2.8GD Executive Double Cab 6-AT 4x4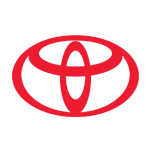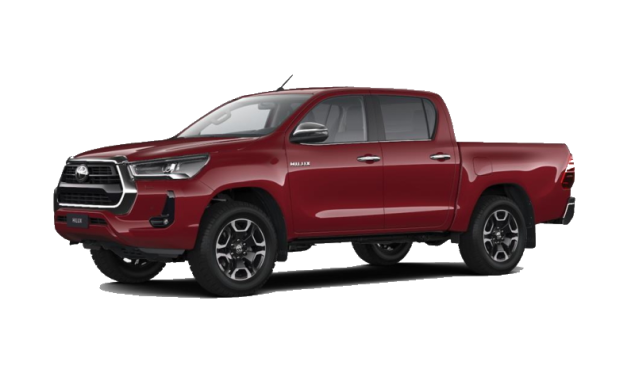 Technical Specifications
ENGINE

Displacement (cc)
2755
Engine Type
Cylinder in line
Fuel System
Direct injection
Fuel type
Diesel
Max power HP/rpm
204/3000-3400
Max torque Nm
500/1600-2800
Number of cylinders
4
Valves/cylinder
4

BODY

Body style
Pick-up double cab
Number of doors
4 doors

DIMENSIONS

Dimensions (Lxwxh) in mm
5325 x 1855 x 1815
Ground clearance (mm)
286
Wheelbase (mm)
3085

TRANSMISSION

Gearbox
Automatic
Transmission
Part time manual 4x4

WEIGHT/CAPACITIES

Additional fuel tank capacity (L)
Curb weight (kg)
2140
Fuel tank capacity (L)
80
Gross vehicle weight (kg)
2910
Number of seats
5

BRAKES

Front brake
Ventilated discs
Parking brake
Manual
Rear brake
Drums

SUSPENSIONS

Front suspension
Coil type
Kinetic Dynamic Suspension System (E-KDSS)
Rear suspension
Leaf

TYRES

Tyre dimension
265/60 R18

PERFORMANCES

Acceleration (sec) : 0 to 100km/h
Max speed (km/h)
175

FUEL CONSUMPTION

Consumption mixed cycle (l/100km)
Equipments
INTERIOR & COMFORT

2nd row seats
Folding 40/60
Adjustable steering wheel
Height and reach adjustable
Air conditioning
Automatic
Car mat
Yes
Central armrest
Rear, Front
Central door locking
Yes
Central door locking while driving
Yes
Connections
Android Auto, Apple CarPlay, USB, Bluetooth
Coolbox
Yes
Cup holder(s)
Rear, Front
Driver footrest
Yes
Driver seat
Height and reach adjustable
Front seats
2
Gearshift & Brake lever
Leather
Locking glove box
Yes
Loud speakers
6
Parking sensor
Front / Rear
Plug 12V
2
Power seats
Driver
Power Steering
Yes
Power windows
Front, Rear
Push & start system
Yes
Radio
Radio MP3
Room lamps
Yes
Sequential electric windows
Front / Rear
Smart keys
Yes
Steering wheel
Leather
Steering wheel audio control
Yes
Sun visor
Yes
Touchscreen
8"
Upholstery
Leather
User guide
English
Videocamera
Rear

ACTIVE SAFETY

ABS
Yes
Automatic light control system
Yes
Brake assist
Yes
Cruise control
Yes
Daytime running lights
LED
Demister
Rear windows
Door unlock alert
Yes
Electronic stability control
VSC
Eletronic Brakeforce distribution (EBD)
Yes
Emergency warning triangle
Yes
Fog lamps
Front
Headlamps
LED
High position brake lamp
Yes
Hill-start assist control
Yes
Immobilizer
Yes
Seatbelt warning
Yes
Side turn lamp
Yes
Trailer Sway Control (TSC)
Yes

EXTERIOR

Adjustable side mirrors
Electric
Door handles
Chrome
Door mirrors
Chrome
Folding side mirrors
Electric
Footboard
Rear step, Side step
Front bumpers
Body colour
Front grill
Chrome
Mudguars
Front, Rear
Rear bumpers
Chrome
Wheels
Aluminium
Windscreen
Laminated

PASSIVE SAFETY

Airbags
Driver, Side & Curtains, Knees (driver), Passenger
Headrests
Rear, Front
Height adjustable lights
Automatic
ISOFIX fixings
Rear
Number of spare wheels
1
Seatbelt pretentioner
Front
Seatbelts - 2nd row
3 x 3 points
Seatbelts - Front
2 x 3 points
Spare wheel
Alloy
---
Gallery