The elegance of Prado, sleek shape and its imposing grille affirm its powerful and statutory image. Experience how to drive this 4x4 in a different way by taking advantage of its exceptional handling thanks to the advanced suspension system and its strong chassis structure. Prado interior will seduce you by its spaciousness and generous storage volume, which gives passengers unequalled comfort and freedom. Land Cruiser Prado integrates many innovative technologies that turn your journeys into adventure experience in both urban and on-road.
---
Technical Specifications
ENGINE
Displacement (cc) : 2755
Fuel System : Direct injection
Fuel type : Diesel
DIMENSIONS
Dimensions (Lxwxh) in mm : 5010 x 1885 x 1890
Ground clearance (mm) : 215
Wheelbase (mm) : 2790
TRANSMISSION
Gearbox : Manual, Automatic
Transmission : All time 4x4
WEIGHT/CAPACITIES
Curb weight (kg) : 2425
Fuel tank capacity (L) : 87
WARRANTY
Manufacturer Warranty : 3 years / 100 000 Km
Retail Network : Toyota
Loading...
---
Models available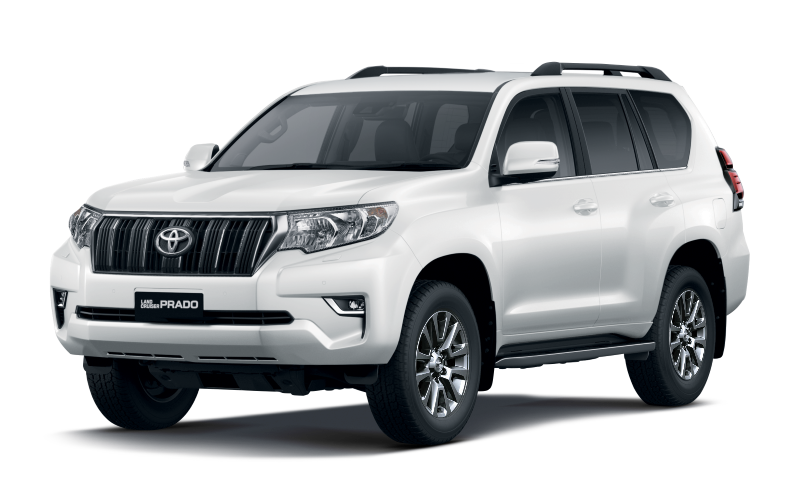 Prado 2.8L 6M/T TX-L

Air conditioning

Airbags

Connections

Door unlock alert

Electronic stability control

Fog lamps

Immobilizer

Power windows

Spare wheel

Spare Wheel Location
Technical Specifications
LC Prado Prado 2.8L 6M/T TX-L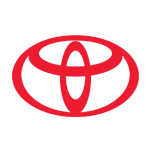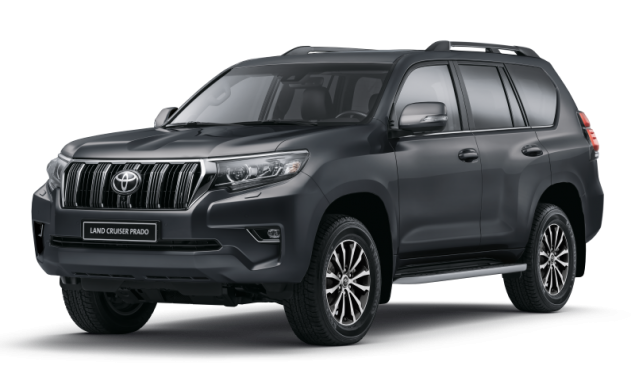 Technical Specifications
ENGINE

Displacement (cc)
2755
Engine Type
Cylinder in line
Fuel System
Direct injection
Fuel type
Diesel
Max power HP/rpm
204/3400
Max torque Nm
420/1400-3400
Number of cylinders
4
Valves/cylinder
4

BODY

Body style
SUV
Number of doors
5 doors

DIMENSIONS

Dimensions (Lxwxh) in mm
5010 x 1885 x 1890
Ground clearance (mm)
215
Wheelbase (mm)
2790

TRANSMISSION

Gearbox
Manual
Transmission
All time 4x4

WEIGHT/CAPACITIES

Additional fuel tank capacity (L)
63
Curb weight (kg)
2425
Fuel tank capacity (L)
87
Gross vehicle weight (kg)
2990
Number of seats
7

BRAKES

Front brake
Ventilated discs
Parking brake
Manual
Rear brake
Ventilated discs

SUSPENSIONS

Front suspension
Double triangle
Kinetic Dynamic Suspension System (E-KDSS)
Rear suspension
Coil type

TYRES

Tyre dimension
265/65 R17

PERFORMANCES

Acceleration (sec) : 0 to 100km/h
Max speed (km/h)
175

FUEL CONSUMPTION

Consumption mixed cycle (l/100km)
Equipments
INTERIOR & COMFORT

2nd row seats
Folding 40/60
3rd row seats
Folding
Adjustable steering wheel
Height and reach adjustable
Air conditioning
Automatic
Car mat
Yes
Central armrest
Rear, Front
Central door locking
Yes
Central door locking while driving
Yes
Connections
USB, Aux, Bluetooth
Cup holder(s)
Front, Rear
Driver seat
Height and reach adjustable
Front seats
2
Gearshift & Brake lever
Leather
Handsfree kit
Yes
Keyless entry system
Yes
Locking glove box
Yes
Loud speakers
6
Luggage compartment
Yes
Lumbar support
Yes
Plug 12V
2
Power Steering
Yes
Power windows
Front, Rear
Push & start system
Yes
Radio
Radio CD / MP3
Room lamps
Yes
Smart keys
Yes
Steering wheel
Leather
Steering wheel audio control
Yes
Sun visor
Yes
Sunvisor with mirror
Passenger
Upholstery
Fabric
User guide
English

ACTIVE SAFETY

ABS
Yes
Brake assist
Yes
Child lock
Yes
Demister
Rear windows
Door unlock alert
Yes
Electronic stability control
VSC
Eletronic Brakeforce distribution (EBD)
Yes
Emergency warning triangle
Yes
Fog lamps
Front
Headlamps
Halogen
High position brake lamp
Yes
Immobilizer
Yes
Seatbelt warning
Yes
Side turn lamp
Yes
Trailer Sway Control (TSC)
Yes

EXTERIOR

Adjustable side mirrors
Electric
Bumper - Front&Rear
Body colour
Door handles
Body colour
Door mirrors
Body colour
Folding side mirrors
Electric
Footboard
Side step, Rear step
Front bumpers
Body colour
Front grill
Chrome
Mudguars
Rear, Front
Rear bumpers
Body colour
Roof rail
Yes
Spoiler
Rear
Wheels
Aluminium

PASSIVE SAFETY

Airbags
Side & Curtains, Driver, Knees (driver), Passenger
Anti-theft alarm
Yes
Emergency kit
Yes
Fire extinguisher
Yes
Headrests
3rd row, Front, 2nd row
Height adjustable lights
Manual
ISOFIX fixings
Rear
Number of spare wheels
1
Seatbelt pretentioner
Front
Seatbelts - 2nd row
3 x 3 points
Seatbelts - 3rd row
2 x 3 points
Seatbelts - Front
2 x 3 points
Spare wheel
Alloy
Spare Wheel Location
Back Door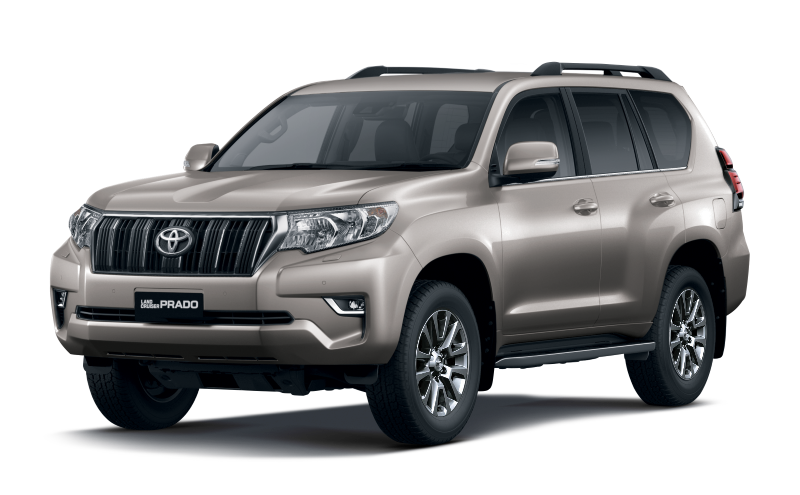 2.8L TX-L 6-Auto 4x4

Air conditioning

Airbags

Connections

Door unlock alert

Downhill assist control

Electronic stability control

Fog lamps

Hill-start assist control

Immobilizer

Power windows

Spare wheel

Spare Wheel Location
Technical Specifications
LC Prado 2.8L TX-L 6-Auto 4x4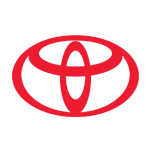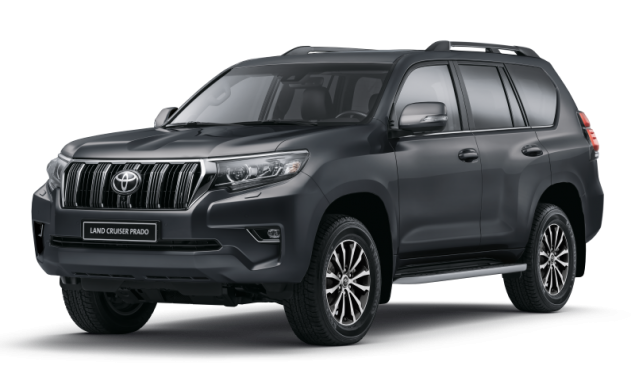 Technical Specifications
ENGINE

Displacement (cc)
2755
Engine Type
Cylinder in line
Fuel System
Direct injection
Fuel type
Diesel
Max power HP/rpm
204/3000-3400
Max torque Nm
500/1600-2800
Number of cylinders
4
Valves/cylinder
4

BODY

Body style
Station wagon, SUV
Number of doors
5 doors

DIMENSIONS

Dimensions (Lxwxh) in mm
5010 x 1885 x 1890
Ground clearance (mm)
215
Wheelbase (mm)
2790

TRANSMISSION

Gearbox
Automatic
Transmission
All time 4x4

WEIGHT/CAPACITIES

Additional fuel tank capacity (L)
63
Curb weight (kg)
2420
Fuel tank capacity (L)
87
Gross vehicle weight (kg)
2990
Number of seats
7

BRAKES

Front brake
Ventilated discs
Parking brake
Manual
Rear brake
Ventilated discs

SUSPENSIONS

Front suspension
Double triangle
Kinetic Dynamic Suspension System (E-KDSS)
Rear suspension
Coil type

TYRES

Tyre dimension
265/65 R17

PERFORMANCES

Acceleration (sec) : 0 to 100km/h
Max speed (km/h)
175

FUEL CONSUMPTION

Consumption mixed cycle (l/100km)
Equipments
INTERIOR & COMFORT

2nd row seats
Folding 40/60
3rd row seats
Folding
Adjustable steering wheel
Height and reach adjustable
Air conditioning
Automatic
Car mat
Yes
Central armrest
Rear, Front
Central door locking
Yes
Central door locking while driving
Yes
Connections
Apple CarPlay, Android Auto, Bluetooth, USB
Coolbox
Yes
Cup holder(s)
Rear, Front
Driver seat
Height and reach adjustable
Front seats
2
Gearshift & Brake lever
Leather
Keyless entry system
Yes
Locking glove box
Yes
Loud speakers
9
Plug 12V
2
Power Steering
Yes
Power windows
Rear, Front
Push & start system
Yes
Radio
Radio MP3
Room lamps
Yes
Smart keys
Yes
Steering wheel
Leather
Steering wheel audio control
Yes
Sun visor
Yes
Sunroof
Manual
Sunvisor with mirror
Passenger
Touchscreen
9 "
Trip computer
Basic
Upholstery
Fabric
User guide
English
Videocamera
Rear

ACTIVE SAFETY

ABS
Yes
Brake assist
Yes
Child lock
Yes
Demister
Rear windows
Door unlock alert
Yes
Downhill assist control
Yes
Electronic stability control
VSC
Eletronic Brakeforce distribution (EBD)
Yes
Emergency warning triangle
Yes
Fog lamps
Front
Headlamps
Halogen
High position brake lamp
Yes
Hill-start assist control
Yes
Immobilizer
Yes
Seatbelt warning
Yes
Side turn lamp
Yes
Trailer Sway Control (TSC)
Yes

EXTERIOR

Adjustable side mirrors
Electric
Bumper - Front&Rear
Body colour
Door handles
Body colour
Door mirrors
Body colour
Folding side mirrors
Electric
Footboard
Rear step, Side step
Front bumpers
Body colour
Front grill
Chrome
Mudguars
Rear, Front
Rear bumpers
Body colour
Roof rail
Yes
Roof rail
Yes
Spoiler
Rear
Wheels
Aluminium
Windscreen
Tinted

PASSIVE SAFETY

Airbags
Passenger, Knees (driver), Side & Curtains, Driver
Anti-theft alarm
Yes
Fire extinguisher
Yes
Headrests
Front, Rear
Height adjustable lights
Manual
ISOFIX fixings
Rear
Number of spare wheels
1
Retractable steering wheel
Yes
Seatbelt pretentioner
Front
Seatbelts - 2nd row
3 x 3 points
Seatbelts - 3rd row
2 x 3 points
Seatbelts - Front
2 x 3 points
Spare wheel
Alloy
Spare Wheel Location
Back Door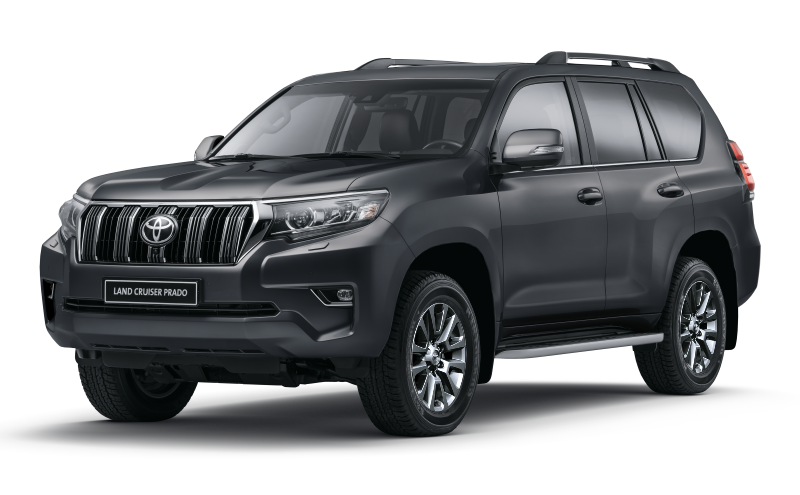 2.8L VX-L 6-Auto 4x4

Air conditioning

Airbags

Connections

Door unlock alert

Downhill assist control

Electronic stability control

Fog lamps

Hill-start assist control

Immobilizer

Parking sensor

Power windows

Rain sensor

Spare wheel

Spare Wheel Location
Technical Specifications
LC Prado 2.8L VX-L 6-Auto 4x4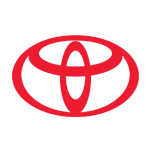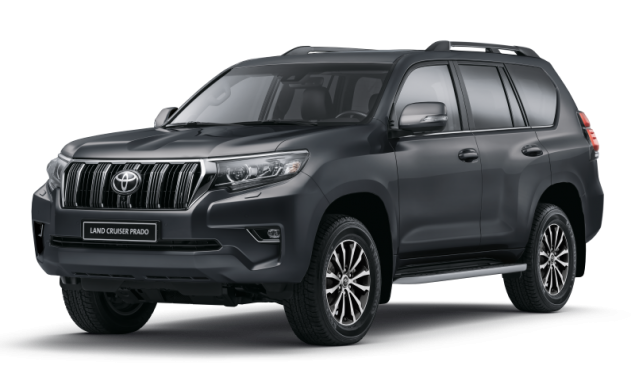 Technical Specifications
ENGINE

Displacement (cc)
2755
Engine Type
Cylinder in line
Fuel System
Direct injection
Fuel type
Diesel
Max power HP/rpm
204/3000-3400
Max torque Nm
500/1600-2800
Number of cylinders
4
Valves/cylinder
4

BODY

Body style
Station wagon
Number of doors
5 doors

DIMENSIONS

Dimensions (Lxwxh) in mm
5010 x 1885 x 1890
Ground clearance (mm)
215
Wheelbase (mm)
2790

TRANSMISSION

Gearbox
Automatic
Transmission
All time 4x4

WEIGHT/CAPACITIES

Additional fuel tank capacity (L)
63
Curb weight (kg)
2420
Fuel tank capacity (L)
87
Gross vehicle weight (kg)
2990
Number of seats
7

BRAKES

Front brake
Ventilated discs
Parking brake
Manual
Rear brake
Ventilated discs

SUSPENSIONS

Front suspension
Double triangle
Kinetic Dynamic Suspension System (E-KDSS)
b:1;
Rear suspension
Coil type

TYRES

Tyre dimension
265/55 R19

PERFORMANCES

Acceleration (sec) : 0 to 100km/h
Max speed (km/h)
175

FUEL CONSUMPTION

Consumption mixed cycle (l/100km)
Equipments
INTERIOR & COMFORT

2nd row seats
Folding 40/60
3rd row seats
Folding
Adjustable steering wheel
Height and reach adjustable
Air conditioned seats
Yes
Air conditioning
Automatic driver & passenger
Car mat
Yes
Central armrest
Front, Rear
Central door locking
Yes
Central door locking while driving
Yes
Connections
Android Auto, Bluetooth, USB, Apple CarPlay
Coolbox
Yes
Cup holder(s)
Rear, Front
Driver seat
Height and reach adjustable
Front seats
2
Gearshift & Brake lever
Leather
Handsfree kit
Yes
Heated seats
Yes
Keyless entry system
Yes
Locking glove box
Yes
Loud speakers
9
Lumbar support
Yes
Parking sensor
Front / Rear
Plug 12V
2
Power seats
Driver
Power Steering
Yes
Power windows
Front, Rear
Privacy windows
Rear
Push & start system
Yes
Radio
Radio MP3
Room lamps
Yes
Sequential electric windows
Driver
Smart keys
Yes
Steering wheel
Leather
Steering wheel audio control
Yes
Sun visor
Yes
Sunroof
Manual
Sunvisor with mirror
Passenger
Touchscreen
8" and more
Upholstery
Leather
User guide
English
Videocamera
Front / Rear / Side

ACTIVE SAFETY

ABS
Yes
Automatic light control system
Yes
Brake assist
Yes
Child lock
Yes
Cruise control
Yes
Daytime running lights
LED
Demister
Rear windows
Door unlock alert
Yes
Downhill assist control
Yes
Electronic stability control
VSC
Eletronic Brakeforce distribution (EBD)
Yes
Emergency warning triangle
Yes
Fog lamps
Rear, Front
Headlamps
LED
High position brake lamp
Yes
Hill-start assist control
Yes
Immobilizer
Yes
Rain sensor
Yes
Seatbelt warning
Yes
Side turn lamp
Yes
Trailer Sway Control (TSC)
Yes

PASSIVE SAFETY

Active headrests
Yes
Airbags
Driver, Side & Curtains, Passenger, Knees (driver)
Anti-theft alarm
Yes
Fire extinguisher
Yes
Headrests
Rear, Front
Height adjustable lights
Automatic
ISOFIX fixings
Rear
Number of spare wheels
1
Retractable steering wheel
Yes
Seatbelt pretentioner
Front
Seatbelts - 2nd row
3 x 3 points
Seatbelts - 3rd row
2 x 3 points
Seatbelts - Front
2 x 3 points
Spare wheel
Alloy
Spare Wheel Location
Back Door

EXTERIOR

Adjustable side mirrors
Electric
Bumper - Front&Rear
Body colour
Door handles
Body colour
Door mirrors
Body colour
Folding side mirrors
Electric
Footboard
Rear step, Side step
Front bumpers
Body colour
Front grill
Chrome
Mudguars
Rear, Front
Rear bumpers
Body colour
Roof rail
Yes
Roof rail
Yes
Spoiler
Rear
Towing hook
Rear
Wheels
Aluminium
Windscreen
Tinted
---
Gallery