CFAO Motors Uganda Partners with Entebbe Golf Club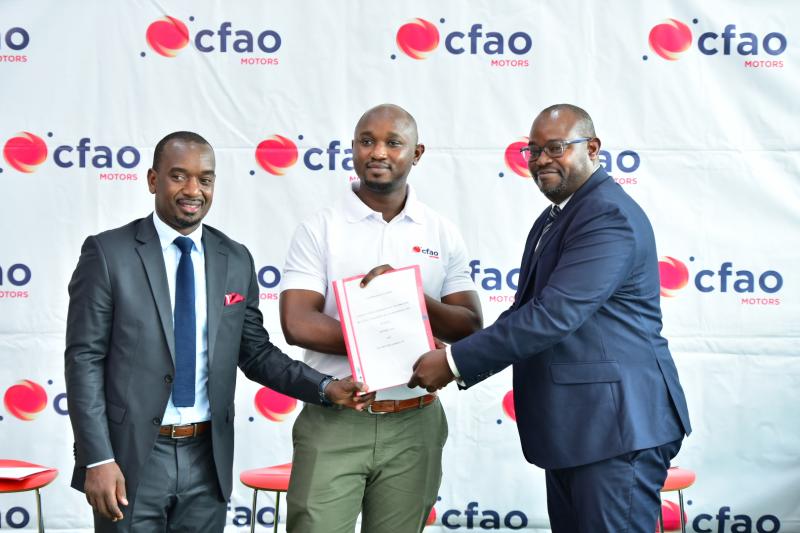 2023, June 22
CFAO Motors Uganda is pleased to announce a dynamic two-year partnership with Entebbe Golf Club, solidifying its commitment to the sport of golf and contributing to its positive development. This exciting collaboration will see CFAO Motors co-sponsor two major tournaments, the Singleton Match Play Challenge and the MTN Monthly Tee, providing an enhanced experience for golf enthusiasts across the country.
The partnership between CFAO Motors and Entebbe Golf Club will involve a significant investment in the form of a cash contribution and brand-new motor vehicles for the thrilling hole-in-one prize competitions held during these prestigious events. The esteemed Entebbe Club will host four major editions where lucky golfers will have the opportunity to win the coveted hole-in-one prize.
The first of these momentous events, the MTN Monthly Tee of Tees, will take place on Saturday, June 24th, at the esteemed Entebbe Club. Golfers participating in this tournament will have a chance to win a brand-new Toyota Corolla Cross as the thrilling hole-in-one prize. This exciting opportunity was made possible by the generous backing of Afrisafe, an insurance broker affiliated with Entebbe Club.
During the MTN Monthly Tee of Tees, CFAO Motors will also showcase its recently launched flagship vehicle, the brand-new Toyota Starlet 2023. This exceptional car model embodies the perfect blend of style, performance, and cutting-edge technology. Participants at the event will have the unique opportunity to test drive the Corolla Cross, similar to the hole-in-one prize vehicle and experience its exceptional features firsthand.
"We are thrilled to partner with Entebbe Golf Club and support these two outstanding tournaments," Isaac Tegule, Marketing Manager, CFAO Motors Uganda. "As CFAO Motors, formerly Toyota Uganda Limited, we have a longstanding relationship with the golf community in Uganda. Our previous engagements, such as hosting the captain's prize tournament and Kabaka's Coronation Golf Cup at Kitante Golf Club, and supporting the Kakira Open at Jinja over the past 2 years, have allowed us to witness the passion and skill of Ugandan golfers. We are proud to continue our association with the golf fraternity and contribute to its growth and development."
Entebbe Golf Club, renowned for its picturesque course and vibrant golfing community, is equally enthusiastic about this collaboration. Serwano Walusimbi, the Captain Entebbe Club shared, "We are delighted to welcome CFAO Motors Uganda as our partner. Their commitment to supporting the sport of golf in Uganda is commendable. This partnership will further enhance the golfing experience at Entebbe Club and provide golfers with an opportunity to compete for exceptional prizes. We look forward to hosting these tournaments with CFAO Motors and creating memorable experiences for all participants."
Through these initiatives, CFAO Motors aims to reinforce its position as a supporter of the sport of golf in Uganda and showcase its dedication to the positive development of the game.
Back to the list