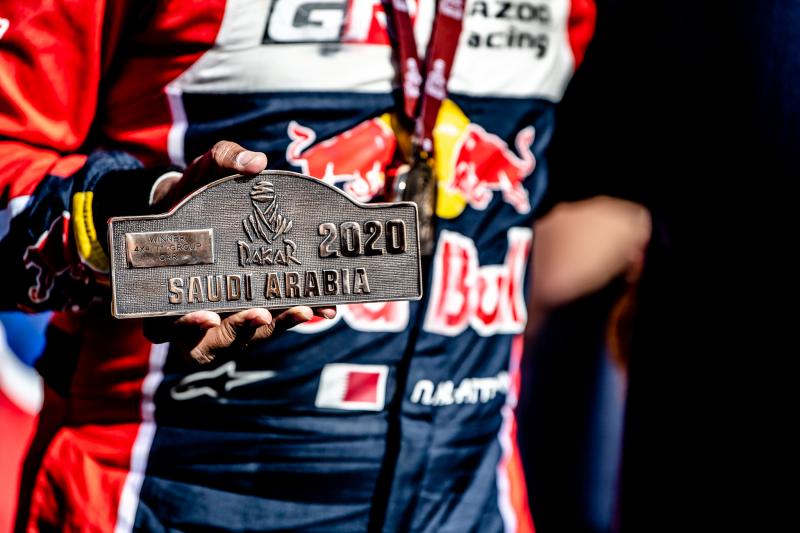 2020, January 28
The Dakar Rally 2020
Held for the first time in Saudi Arabia, the 2020 edition of the Dakar Rally included 12 race stages: dune crossings, rocky tracks and high-speed desert crossings. Even though it is considered one of the most difficult sporting events in the world, the three TOYOTA GAZOO Racing teams ranked in the Top 10.
The Dakar Rally 2020 started in Haradh and ended near the Saudi capital of Riyadh, in Qiddiyah, after the second stage of the emblematic event where Nasser Al-Attiyah and Mathieu Baumel, representing TOYOTA GAZOO Racing, won the 'final step. Although the distance of the stage was not sufficient for Nasser and Mathieu to catch up with the leaders, the duo still won 3:56 to consolidate their second place in the general classification.
Fernando Alonso, who joined this famous team competition TOYOTA GAZOO Racing for the first time, and Marc Coma, shone with the fourth fastest time and lost only 3:25 to Nasser and Mathieu. The duo were only 25 seconds behind their teammates at the first crossing, but suffered a puncture at the halfway point, which wasted their time. Fernando and Marc finished 13th overall, 4:42:47 behind the race winners.
Overcoming various setbacks, including 43 punctures which lost the crews at least 1min 30sec for each puncture, TOYOTA GAZOO Racing crews kept applying the pressure knowing that they can rely on the Hilux to deliver. However, with two stages shortened, the crews were unable to make up the lost time to defend the last years Dakar Rally title.
Back to the list