Toyota Belta & Toyota Rumion Storm the Market Through Affordable Financing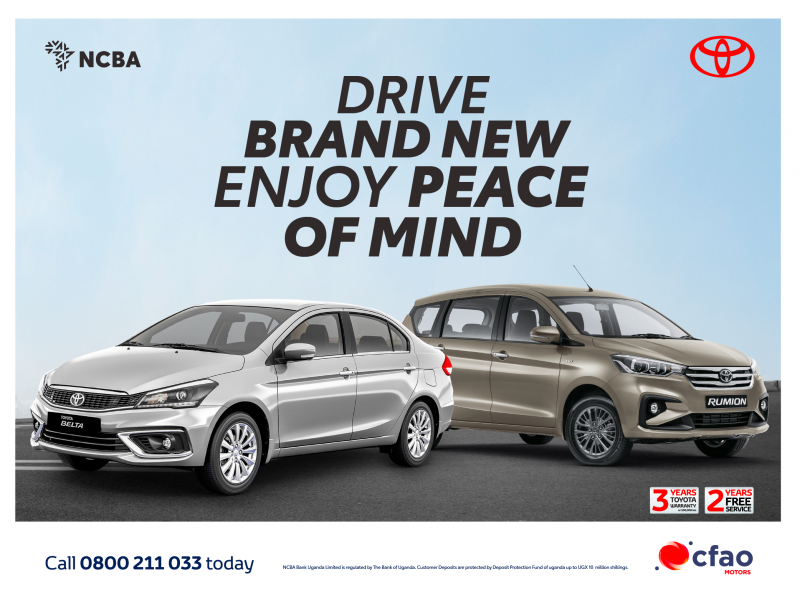 2022, November 19
CFAO Motors Uganda, formerly Toyota Uganda, has unveiled the all-new Toyota Belta and Toyota Rumion suited for individuals, families as well as small and medium enterprises looking for fuel efficient yet affordable brand-new vehicles to go about their daily activities. Unveiled at the Garden City Rooftop, on Saturday 19, November, the new vehicles are promoted through a campaign dubbed "Drive Brand New, Enjoy Peace of Mind".
During the public unveil, Mr. Isaac Tegule, Marketing Manager CFAO Motors said, "These are some of the most affordable vehicles in the brand-new vehicle category with the latest tech and suitable to address the continued demand for vehicles with more fuel-efficient engines." He described the Toyota Rumion as one with an ultra-efficient 1.5 litre petrol engine, a spacious 7-seater capacity and multiple configurable rear seat arrangement. It has advanced tech consisting of Android Auto and Apple CarPlay. It also has safety features such as rear parking distance control and ISOFIX mounting brackets to secure baby seats.
On the other hand, the Toyota Belta, a 1.5 litre engine car is good for SMEs looking to streamline employee transportation. Its compact size makes it easy and affordable to navigate Uganda's urban jungle. The Belta can comfortably seat 5 or carry a load of merchandise to the next side-hustle. It also has an advanced multimedia infotainment system with a 7-inch touch screen featuring Android Auto, Apple CarPlay, and more. It boasts of high-tech safety features like an automatic electrochromic rear-view mirror, LED lights and day running lights.
Mr. Tegule further stated that, "the new Toyota Belta is a statement of progress, defined by its reputation and quality that will resonate with the forward-thinking young family or entrepreneur."
Through the partnership with NCBA Bank, one can purchase the Toyota Rumion or Toyota Belta with up to 95% vehicle financing with a maximum repayment period of six years. Both cars also come with free service for 2 years or 50,000km whichever comes first as well as 3-year manufacturer warranty.
Back to the list