Victory in Morocco for TOYOTA GAZOO Racing as Nasser and Mathieu take historic win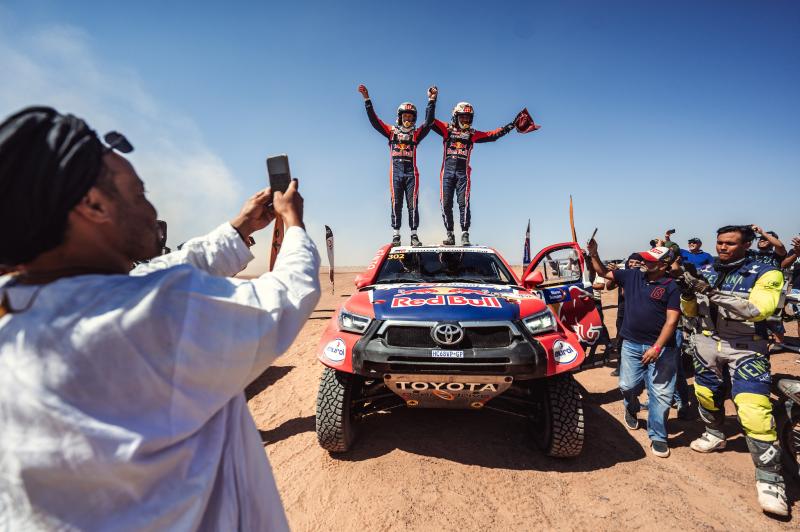 2021, October 27
TOYOTA GAZOO Racing's Nasser Al-Attiyah and navigator Mathieu Baumel stormed to a resounding victory at the 2021 Rally of Morocco, when they won the fifth and final stage of the event. This brings Nasser's tally to six wins in Morocco, while Mathieu increased his total to seven, having also won in 2011 with a different driver. They were already the most successful crew in the history of the race, but today's victory elevates them, together with the Toyota Hilux, to a new level.

Victory in the 2021 edition of the rally brings Toyota its fifth consecutive win in Morocco, with Nasser and Mathieu taking four of their victories with a Toyota Hilux. TOYOTA GAZOO Racing teammate, Giniel de Villiers and navigator Alex Haro, contributed another win during the last running of the event, in 2019. This gives Toyota more victories in Morocco than any other brand to date.

Nasser and Mathieu showed their class throughout the event, winning all but one of the five stages, and taking victory on the short prologue, before the race. They quickly built up a lead that grew to 11min 21sec after four stages. They managed to win the shortened final stage of 166km in a time of 1hr 37min 50sec, increasing their margin in the overall standings to 15min 58sec.

Remarkably, the only mechanical difficulties they experienced during the race was a single puncture early in the event. The crew managed to change to a spare in less than one minute, minimising the time loss.

After the five timed stages, Nasser and Mathieu topped the standings. They were supported by three more Toyota Hilux crews, with Yazeed Al Rajhi and Michael Orr taking second place; and Lucio Alvarez and navigator Armand Monleon completing the podium. In the final standings, four of the top five crews were in Toyota Hilux.

The 2021 Rally of Morocco comprised five stages, and featured a total timed distance of 1,510km after the final stage was shortened by the organisers. Together with the various liaisons, the total distance of the tough event came to approximately 2,500km.

STAGE 5 RESULTS:
1. Nasser Al-Attiyah/Mathieu Baumel Toyota Hilux (TGR) 1hr 37min 50sec
2. Jakub Przygonski/Timo Gottschalk MINI +3min 42sec
3. Yazeed Al Rajhi/Michael Orr Toyota Hilux (Overdrive) +4min 37sec
4. Matthieu Serradori/Loic Minaudier SRT Racing +6min 09sec
5. Lucio Alvarez/Armand Monleon Toyota Hilux (Overdrive) +6min 52sec

FINAL STANDINGS:
1. Nasser Al-Attiyah/Mathieu Baumel Toyota Hilux (TGR) 15hr 52min 10sec
2. Yazeed Al Rajhi/Michael Orr Toyota Hilux (Overdrive) +15min 58sec
3. Lucio Alvarez/Armand Monleon Toyota Hilux (Overdrive) +1hr 10min 52sec
4. Ronan Chabot/Gilles Pillot Toyota Hilux (Overdrive) +1hr 27min 58sec
5. Sebastian Halpern/Bernardo Graue MINI +1hr 34min 58sec


QUOTES:

Glyn Hall, Team Principal:
"Nasser and Mathieu truly did us proud in Morocco. They showed exactly why they are such feared and respected competitors, winning all but one stage on the way to another victory. We're equally proud of our Toyota Hilux, which ran like clockwork, and underlined its capabilities over a wide variety of terrain types."

Nasser Al-Attiyah:
"For us, this was an amazing rally. The team did a perfect job, and we are very happy. We lead from the beginning, and managed to control the race right from the start. Today was also good, and we showed that we have the speed to win here. This result gives us the lead in the FIA World Cup, which was really our goal from the start."

Mathieu Baumel:
"For me, our victory in Morocco is very special. It is my seventh win on this tough event, and this year's rally proved to be just as challenging as in the past. Nasser drove perfectly, and we managed to bring the Hilux home without any problems whatsoever."

Source:https://newsroom.toyota.eu/
Back to the list