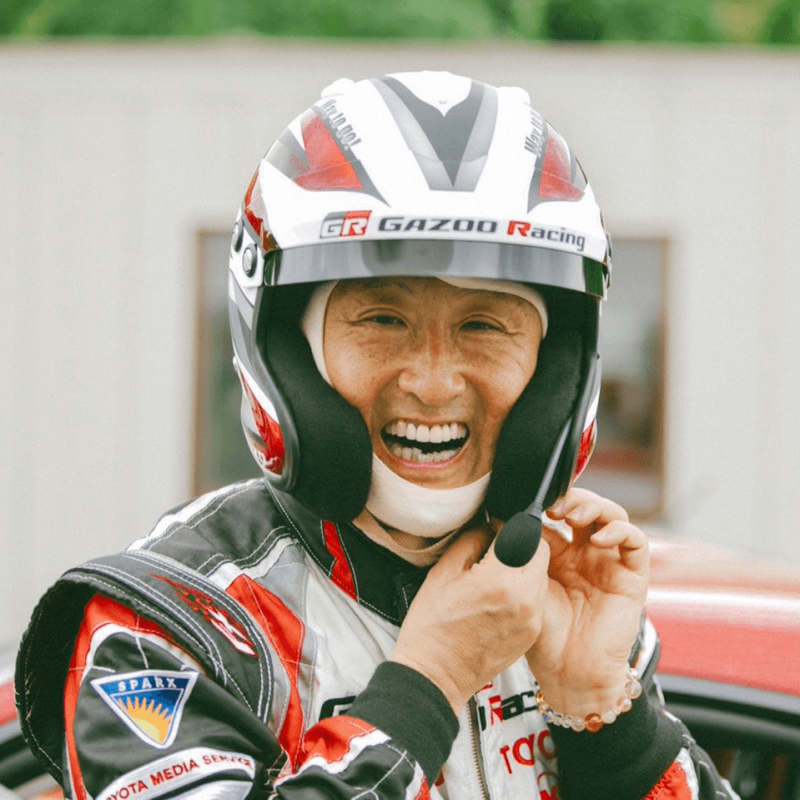 2023, March 31
"Morizo" is the name used by Toyota Motor Corporation President Akio Toyoda when he's sitting behind the steering wheel. Let us offer an explanation of what is behind this name as we trace it back to its origin.
Meeting Hiromu Naruse

Akio Toyoda, grandson of Toyota Motor Corp. founder Kiichiro Toyoda, is Toyota's "master driver", or Toyota's chief test driver. However, it was his encounter with the late Hiromu Naruse, Toyota's then chief test driver, his driving teacher and his senior by 14 years, that led Akio to acquire hands-on experience dealing with the functionality of cars.

Shocking Words

Naruse, involved in motor sports activities as a mechanic and evaluation test driver since joining Toyota in 1963, became responsible in later years for "seasoning" Toyota's sports cars as the company's most skilled chief test driver. The two first met after Akio, who had been serving as vice president at a subsidiary in the United States, returned to Japan holding a top-ranked driving license. At the encounter, Naruse shared shocking words with Akio:
"It's annoying that someone at the top like you doesn't know the basics of driving, but just gets into the car and comments on this and that!"
He added, "Test drivers put everything on the line in the name of creating better cars. To talk about this and that without knowing anything just causes trouble."
Then came the offer: "If you feel like it, even if just once a month, I'll teach you how to drive."
At that time, Akio was already over the age of 40, but instead of being just a "car lover", he wanted to be more. He wanted to be someone who could evaluate cars correctly, to become the "final arbiter" of Toyota's cars. From that time forward Akio learned from and honed his driving skills under chief test driver Naruse.

Training People and Cars

It was only a few years later, in 2007, when Naruse, Akio, and their fellow test drivers launched "GAZOO Racing" and attempted the Nürburgring 24-hour endurance race, the world's most challenging amateur race. However, Naruse didn't want them to enter the race to compete to win. Instead, he wanted to use the race as an opportunity to train people and cars. Looking back on the experience, Akio recalls:

"Driving 24 hours with rivals at Nürburgring, the world's toughest circuit, presented many more challenges than driving a test course for three years. Naruse always said that 'Roads make cars.' The race is punishing, but it forges better machines. Nürburgring is where I learned that 'the road makes the car.'"

At the Nürburgring, the limits of a car are tested on its tough roads. Due to the trying nature of the course, a myriad of issues emerge one after the other – issues that don't normally appear on standard test courses. In preparation for and during a race, the team desperately works together to overcome these emerging issues, and the know-how cultivated at the track ultimately finds its way back to be used to make cars. GAZOO Racing has been working on "making ever-better cars" and developing people who support this through motor sports.
Invisibility Cloak

Because of his insistence to participate in life-threatening racing activities, Akio received harsh criticism, both from within and outside the company. People were saying things like "Doesn't he know how dangerous that is?", "Doesn't he know that this is inappropriate for someone in his position?", and even "Isn't this just his personal hobby?" To make himself less conspicuous and susceptible to criticism, Akio took on the name "Morizo". He started using the moniker publicly from the 2007 Nürburgring 24-hour endurance race, when he was vice president. However, nowadays, the name is hardly a secret; the number of people who know and support his motorsport participation has grown, both inside and outside the company. The use of "Morizo" now has a new role. It lowers the barrier, allowing Akio to express his true feelings as a "car lover" or a "car guy", which is sometimes not easy to do when speaking as the "president" of Toyota.
After Naruse's Passing

Tragically, Naruse left this world in 2010 due to an accident on a public road near his favorite track, the Nürburgring. Although it seemed once that GAZOO Racing was ready to disband after Naruse's death, the remaining members pushed onwards, and their work has grown and expanded to play a central role in making ever-better cars at Toyota. Naruse always said that there is no end to making good cars. In fact, the phrase "let's make ever-better cars" that is used so frequently by Akio since he was appointed president embodies the feelings he inherited from Naruse. Now, it even serves as a unwavering focus or guide that Akio uses in his management.

source: https://toyotatimes.jp//
Back to the list