The all-new Toyota Starlet unveiled in Uganda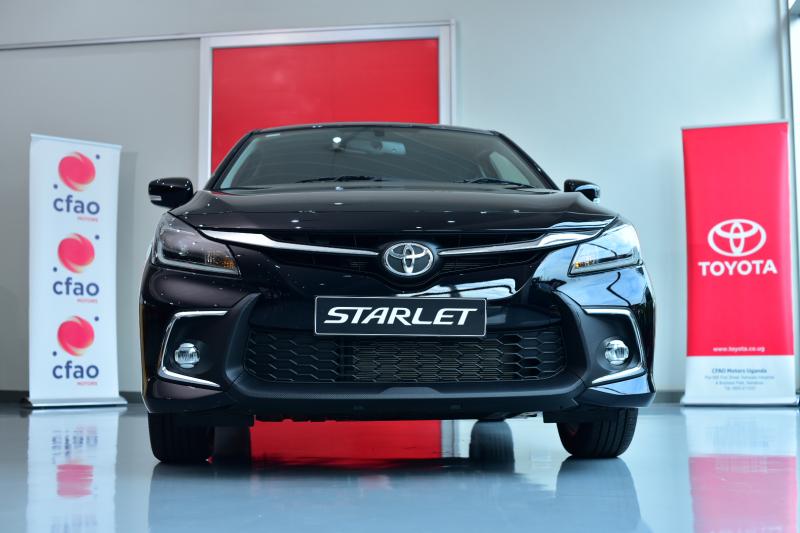 2023, June 14
The Toyota Starlet has once again made a sensational return to the Ugandan market. Launched last year and now making a remarkable comeback in 2023, the all-new Toyota Starlet redefines the ultimate driving experience for one seeking a reliable, fuel-efficient, and easy-to-maintain vehicle.
The new and improved Toyota Starlet takes the automotive market by storm, boasting a dynamic and more powerful 1.5L petrol engine increased from the previous 1.4 liter, resulting in enhanced acceleration with more torque whilst attaining the expected fuel efficiency. In addition to the facelift aimed at enhancing the stylish look of the vehicle's interior and exterior, the Toyota Starlet's body has also been made wider, with a higher ground clearance to better maneuver the Ugandan roads.
"We are glad to announce that the Starlet has made a return and continues to evolve. To the generation that grew up in the era of Starlet, it was a household car. Its simplicity, durability, and economic fuel consumption endeared it to many customers. The latest model is packed with all these functional benefits and much more. It is for someone that seeks to maneuver through Kampala traffic without compromising their comfort and class," CFAO Motors Marketing Manager, Isaac Tegule stated.
Tegule added, "Embracing the latest in automotive technology, the Starlet boasts of connectivity and convenience with the integration of Android Auto and Apple CarPlay. Seamlessly sync your smartphone to the car's multimedia system and enjoy a hands-on driving experience with easy access to navigation, music, and a wide range of apps. Additionally, the keyless entry and start system provides effortless access to the vehicle, adding an extra touch of convenience to your daily routine."
Toyota's uncompromising stance regarding quality, durability, and reliability (QDR) was modeled within the new Toyota Starlet. This belief, along with our collaborative research efforts, drives Toyota to create advancements and innovations in safety that continue to help prevent crashes and protect people, sparing neither effort nor expense in pursuit of the highest standards of safety.
Priced at an attractive UGX 79.8 million for the 2023 brand new, zero mileage Starlet, CFAO Motors offers an exceptional package with every purchase. You also get complimentary vehicle service for 2 years or 50,000km (whichever comes first), ensuring your vehicle remains in peak condition throughout its early years on the road and a warranty for 3 years or 100,000 km (whichever comes first), giving you the needed peace of mind.
Back to the list